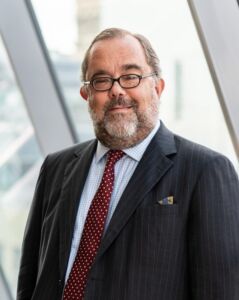 Since 2012, the Swedish Bar Association has awarded an annual prize for outstanding
contributions to the legal profession. This year's award has been given to André Andersson, Chairman of the SCCL and Senior Adviser at Mannheimer Swartling. He receives the award for, among other things, his commitment to and work for legal research and teaching. It was presented by the Society's Secretary General Mia Edwall Insulander at this year's Lawyers' Days (Advokatdagarna), which took place at the Grand Hotel on 26-27 October.
"This year's winner receives the award for his outstanding contributions to the legal
profession by combining professional skills, as one of Sweden's foremost lawyers in
financial law, with a great commitment to and work for legal research and teaching. In 2017, this year's winner was awarded an honorary doctorate in law at Stockholm
University. This year's winner also has a broad international commitment and has made a commendable contribution to strengthening Swedish lawyers' international relations. In combination with a genuine interest in and contribution to pro bono work, this year's winner has also contributed to increasing the understanding of the lawyer's important role in our legal society."
The prize consists of SEK 100,000 donated by the Swedish Bar Association to a pro bono
project chosen by the winner. André Andersson has asked for this amount to go to the
Stockholm City Mission (Stockholms Stadsmission) and be used to support the work with rights
issues and contacts with authorities for the homeless. André is Vice Chairman of the Stockholm
City Mission and Mannheimer Swartling regularly supports the Stockholm City Mission with legal
advice on a pro bono basis.