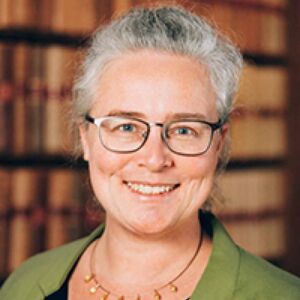 On 17 April 2023, Professor Dr Birke Häcker was awarded an honorary doctorate at the Faculty of Law in Stockholm. As Birke Häcker is a close and long-standing friend of the SCCL, we are particularly happy about this well-deserved award. The promotion will take place in the City Hall (Stockholms Stadshus) on 29 September 2023 with the usual pomp and circumstance.
Since January 2023, Birke Häcker is Schlegel Professor of Civil Law, Common Law and Comparative Law at the University of Bonn, where she is also Director of the Institute for Private International Law and Comparative Law. Her professorship is one of ten Schlegel professorships established by the university to build international contacts and networks.
Birke Häcker began her career by studying law in Oxford. After graduation she managed to obtain one (of two annual) Examination Fellowships at All Souls College. These provide funding for seven years of academic research (with no teaching requirement) and are perhaps the most desirable research positions that Oxford offers. The tests that the candidates have to pass have been described as "the hardest exam in the world". During this period, Birke Häcker obtained her Diplom-Jurist exam at the University of Bonn in 2004 and presented her dissertation as Doctor of Philosophy in 2007 at the University of Oxford.
From 2016 to 2022, Birke Häcker was Professor of Comparative Law at the University of Oxford and Professorial Fellow at Brasenose College. From 2018 to 2022, she was also Director of the Institute of European and Comparative Law (IECL) at the University of Oxford.
In her role as director of IECL, Birke Häcker played a decisive role in deepening and expanding the collaboration between the law faculties in Oxford and Stockholm, both on an institutional and on a personal level.
18 April 2023